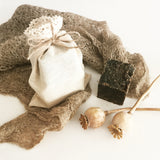 Soap Rosemary & Pine
or make 4 interest-free payments of $2.50 AUD fortnightly with
More info
A natural shampoo and body bar suitable for dry to normal hair.
Ingredients: ​extra – virgin olive oil, rosemary tea, sodium hydroxide, coconut oil, macadamia oil, avocado oil, castor oil, jojoba, beeswax, essential oils of rosemary, pine & palmarosa
All soaps are handmade from the time honoured cold-process method. Extra-virgin olive oil sourced from Donnybrook in Western Australia is the main base oil. The maker, Marina also uses vegetable oils such as coconut, rice-bran, castor, sweet almond, jojoba, avocado, macadamia and these are added according to specific recipes. Only natural plant extracts and essential oils are used for fragrance and colour. She uses a wide array of soap recipes and handmilled soap processes. Marina prefers not to stick to one standard recipe for all my soaps but love using different combinations of oils & butters, botanicals and essential oils. What you get in the end are soaps with their own unique character, without compromising on skin and environment friendly factors. Marina's special soap recipes also influence whether you get a hard or a soft soap – with the cleansing, moisturising, lathering properties and benefits of the base and essential oils.
Her Castile Soaps are made from 100% extra-virgin olive oil. She follows the more traditional route of soapmakers of the past to provide you a Castile soap that has always been well-known for its mild cleansing and moisturising properties.
In order to get the best use of these handcrafted soaps, rub onto a wash cloth or a loofah before using on the skin. Avoid sitting the soap in water and drain well after use.