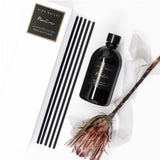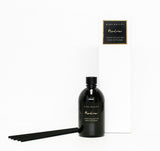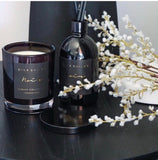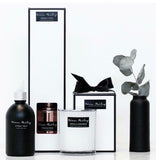 Diffuser Noir 250ml
or make 4 interest-free payments of $10.00 AUD fortnightly with
More info
250ml of Phylate free Premium Fragrance

Alcohol free

These stylish & sleek diffusers will last you well over 6 months. Available in three beautiful fragrances that will delight the senses.
FRAGRANCES

B Y T H E F I R E

Like a warm, roaring fire with bold woody notes of Sandalwood and Patchouli, spicy notes of cinnamon & clove and herbal floral hints of jasmine and thyme.



F R E N C H P E A R

This variety of pear derive their name from the phase, Doyenne du Comice meaning "top of the show", as they are often celebrated as the best pear variety. Originating in France, the fragrance is rich, juicy and meltingly smooth. Overall, an amazing pear fragrance.



L E M O N G R A S S + P E R S I A N L I M E

The unmistakable natural fresh citrus scent of lemongrass is combined with zesty lime, lemon peel and a soft floral undertone. Top Notes: Lime Zest & Lemon Peel. Middle Notes: Lemongrass & Jasmine. Base Notes: Vanilla Bean & Rosewood.



L I M E + B A S I L + M A N D A R I N

This premium fragrance combines fresh zesty citrus notes of lime and mandarin undertones with notes of basil and herbs. A very unisex fragrance for everyone.



L Y C H E E + P E O N Y

The freshness of exotic lychee fruit is complimented perfectly, with a delicate scent of peony petals. This is a fresh and subtle oriental fragrance with both fruity and floral scents.



V A N I L L A C A R A M E L

Enriched with sweet and salty buttery caramel. This sweet scent is balanced perfectly with rich creamy vanilla, coconut and tonka bean. Our best seller!



* Fragrances are all premium grade. Phylate and Nitro musk free
Nina Bailey is an eco-luxury home fragrance and body care studio based in Perth, Western Australia. We believe in making the best there is, and doing it locally. Each product in our beautiful range is personally hand-made with intention and love by us.

Passionate about delivering products that are good for you and the environment we combine clean design with sustainable materials. Special attention is made to sourcing premium ingredients with our candles being made with 100% soy wax, cotton wicks & phylate-free fragrances. Our luxury bath & body products contain pure, natural ingredients, organic where possible, and extra fine essential oils - no preservatives and no nasties. We are very much advocates for gentle processes and we seek to conserve and minimise any impacts our business has on our environment.

Details count. We firmly believe that beautiful customer service should always accompany a beautiful product. We take an artisan approach to all we do to ensure your experience with us is one you proudly share.