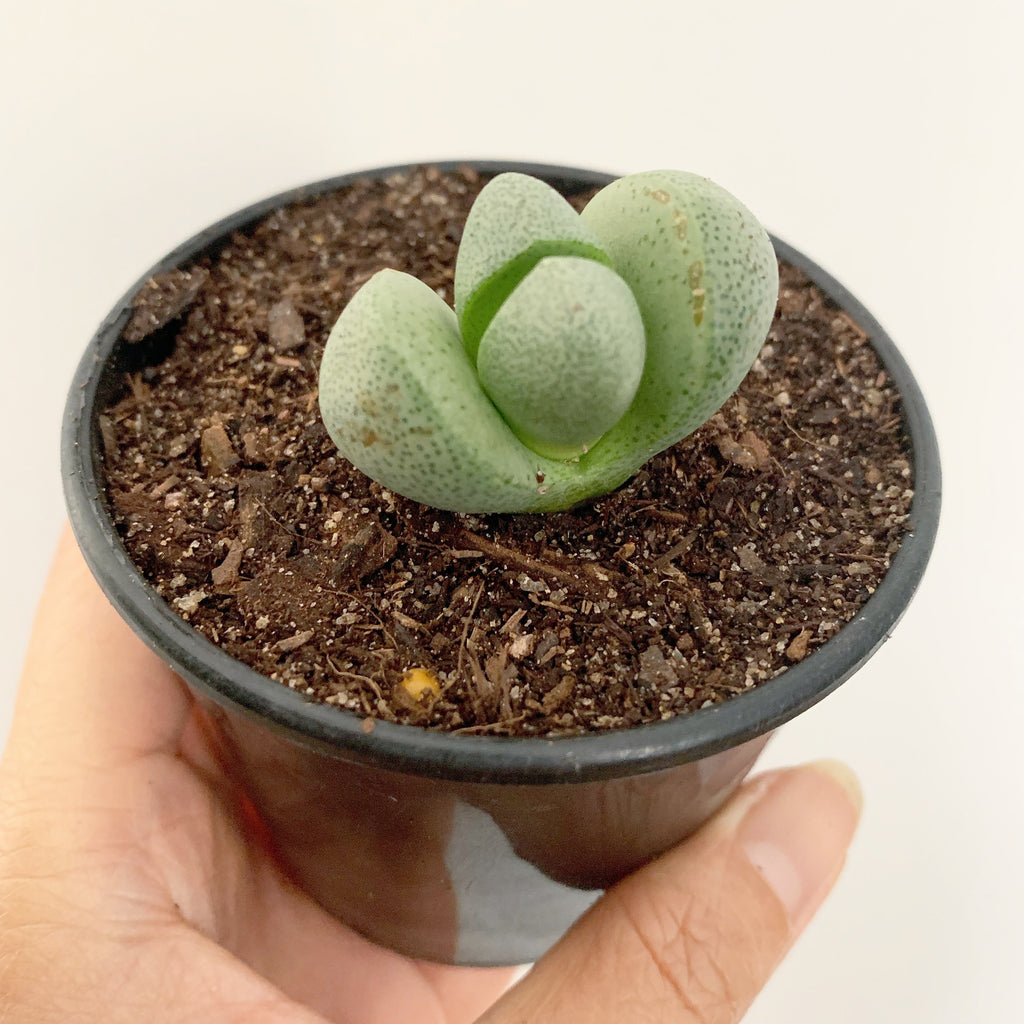 Plant - Dinteranthus Microspermus (Stone Plant)
or make 4 interest-free payments of $3.00 AUD fortnightly with
More info
Thoughtful and meaningful gift for your loved one or the perfect plant to add to your collection. 🎁
Give a gift of life. What's better than a gift that continues giving? This plant will continue to bring you joy in many years to come. 🌱🌱

Photos are images of our plants that we have available at the moment. You will receive a plant SIMILAR to that in the photo(s). Please understand that each plant is different but you will be assured a healthy plant which will be shipped bare rooted (without pot and soil). Please DO NOT place an order if you cannot accept a plant that looks different from the photo(s).
Please note that plants change their colors during different seasons/climates or are being exposed to different living conditions. The photos of the plant(s) are taken in Summer time. Upon recording the plants they may look slightly different as well being kept in the dark for a few days during the transit.
Kindly place order only if you are agreeable to the above.
🍃🍃🍃 Measurements 🍃🍃🍃
S Size in 70mm pot

M Size in 100mm pot

L Size in 130mm pot
Cutting is a small piece of the plant or a rosette that can be 0.5-2 inches.
✈️✈️✈️ Shipping ✈️✈️✈️
Please opt for EXPRESS SHIPPING when check out. We need about 1-2 weeks to process your order. We only ship on Mon-Wed to avoid packages being held up in the post offices over the weekend. Please get in touch for urgent orders. We charge shipping and handling fees for the plants. Excess shipping charges will be refunded. Plants will be shipped bare rooted.
💕💕💕 Care 💕💕💕
Remove the plants from the box immediately. Remove all packaging materials and allow them to air indoors in cool and brightly lit area for a couple of days. Pot the plants and water them with cooler water. Gradually introduce them back into the sunlight. Remember not to rush and take a few days to eventually get them outdoors again. We highly recommend leaving the plants where they can receive beautiful morning sunlight but sheltered from harsh afternoon light. Water your plants when necessary. It depends where you leave your plants. If you notice the soil is dried or the leaves look a little wrinkled, give them a good cool rinse. Love your plants and they will have plenty to offer you in years to come. Enjoy this beautiful and rewarding process.
🌸🌸🌸  About One Seed 🌸🌸🌸

One Seed is a proud Australian owned company www.facebook.com/MyOneSeed

One Seed, One Dream.
Things we do, inspired by Mother Nature.
We love, grow and create.
梦田, Where a little seed represents a dream in your heart.

At One Seed, we give lots of attention to our plants, as they are like a part of our family. From where we came from, plants (e.g bonsai) are treated like prized possessions, much loved and cherished. We part with our plants only knowing that they will be heading to a better home and will be continued being adored and looked after.

We don't mass produce like a factory or sell plants like commodities. We adore succulents and see the unique beauty in every plant. They are like breathtaking sculptures created by Mother Nature. At One Seed, we enjoy the process of making pots, mixing soil (according to our own "recipe") and potting up the plant in pots that will flatter the uniqueness of each plant. We want you to be surprised by the natural beauty of each plant and pot every time you look at it. Be it how interestingly the plant has grown, how amazing the flowers have bloomed to how gracefully the pot has aged over the years. It is in the hope of sharing Nature and its beauty that One Seed is founded. 💕