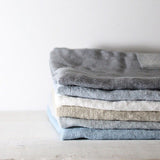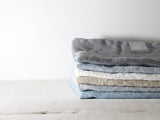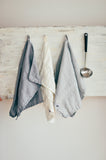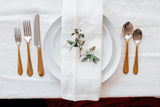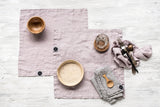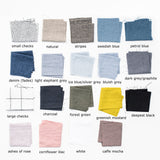 Linen Kitchen Towel
Linen kitchen towels, about 50 cm x 70 cm

Our items are made of washed linen fabric, specially woven by small linen manufacturers. The procedure of making these items takes time and effort, cause the items are double washed once they are made in order to achieve extra softness and natural wrinkles.

Simply washed linen towels.
Simplicity. Handmade. Made to last.

DISCRIPTION:
-100 % natural Lithuanian linen (flax);
- color: natural;
- washed with natural softener;
- simply finished;
- not ironed (no need to iron to have a homemade look);
- homemade by small family at humble home studio;
More than simple forms, simple colors, simple seams, natural linen fabric and healthy thinking – these all honestly simple things were created for those who appreciate natural things and adore simple forms and homemade look. No smell of the factory, no factory seams, no perfect ironing - only a homemade idea.

Why linen? The beauty of linen is that it is not perfect. If you keep trying to iron it, you will definitely miss the beauty of it. Linen needs to be used and it gets better with age. Linen pieces can be compared to old English leather shoes or old mechanical Swiss watches – all of these things are not new or perfect but are definitely more valuable than any new.

We are glad to share with you something irregular and something that it is not perfect.