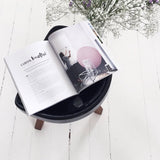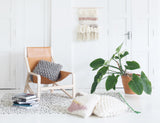 Koel Magazine Issue One
or make 4 interest-free payments of $6.25 AUD fortnightly with
More info
A new quarterly magazine by Studio Bloesem that celebrates crafting with yarns to create a stylish home. Curating a contemporary interior decor with yarns. It brings back the coolness to decorative crochet, knitting, macramé, latch hooking, needlework, and weaving. Selectively featuring guest stories on other vices of KOEL's makers, such as flowers, food, ceramics and other handmade crafts.

KOEL helps yarn crafters to connect the dots. From pattern inspiration to creating an artwork that adds to the uniqueness of a home. Sourcing the best yarns and materials was never so easy. KOEL's pages are filled with interior styling tips and tricks. In KOEL, we document the creative journeys of yarn crafters across the globe, through interviews and special reports.

KOEL is impeccably curated through captivating photography, revealing beautifully styled spaces. Homes become personal museums filled with handmade yarn designs.

A gift to those that are passionate about yarns and their homes, you will find KOEL on coffee tables, a keepsake treasure with thumbed pages. KOEL is a timeless source of inspiration for yarn crafters.