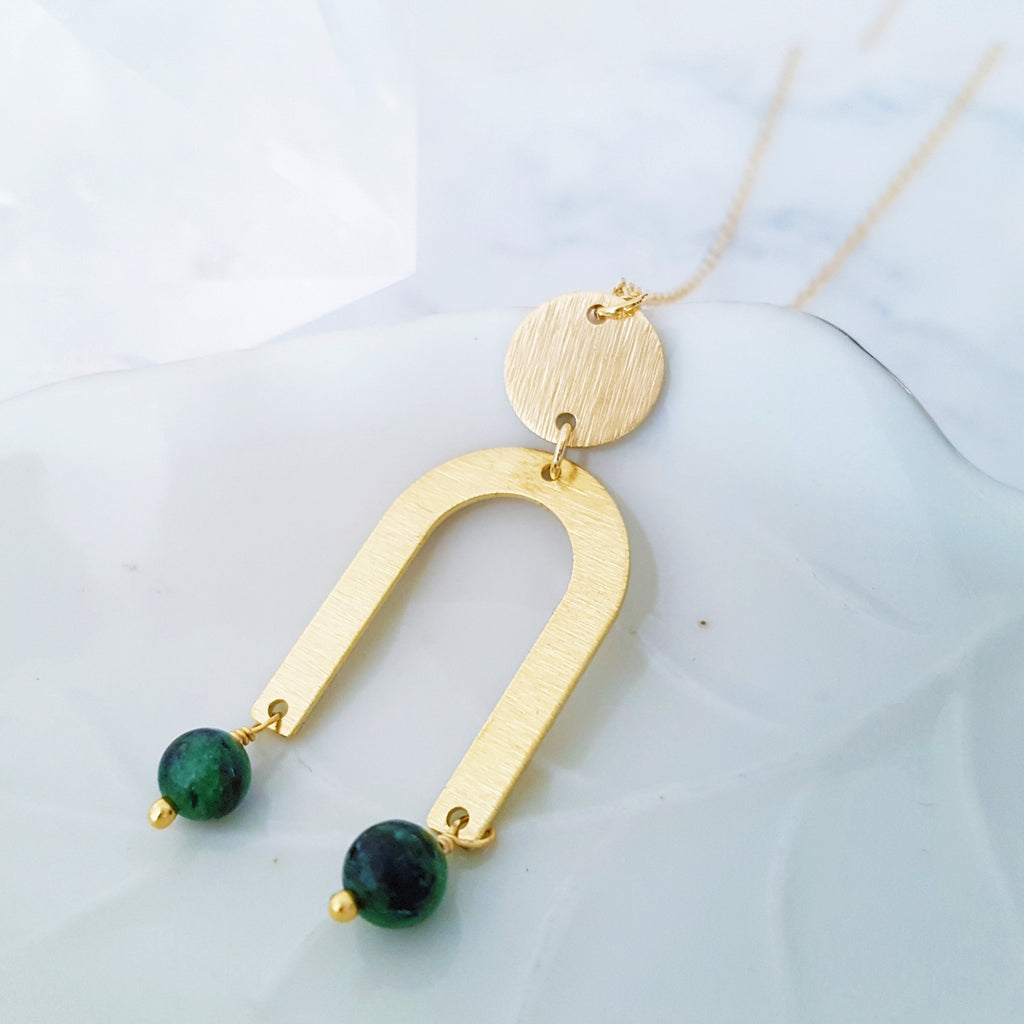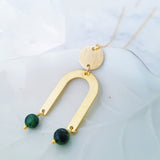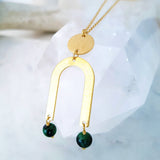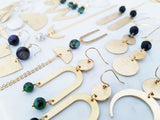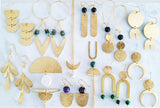 Helios Brass Collection - Ruby Zoisite Gold Arch Disc Necklace
or make 4 interest-free payments of $8.75 AUD fortnightly with
More info
Helios is the Goddess of Sun in the Greek Mythology. It represent the vibrant energy of this wonderful gold brass gemstone collection. The gold of the brass stunningly shines like the golden sun and the gemstones it is endowed with, elevate the energies and create unique properties that brings out the personality of the wearer beautifully. 

It is a beautiful orchestra of simple organic shapes in a display of classy art!
If you love gemstone, simplicity and minimalism, you will adore this piece. 

Each gem is unique, just like you!
How beautiful is this Earth's little treasure!
Measurements
Approximately 0.75 x 1 inch gold Arch and 0.5 inch diameter gold disc charms with 0.25 inch diameter Ruby Zoisite beads in 18 inches necklace with 2 inches extender.
Please note that these are natural stones and they all come in different shapes, colours and sizes. The product received may vary slightly from the product image shown.

Gemstone Properties
Ruby in Zoisite offers the energy of happiness, appreciation, abundance, vitality and growth. It stimulates the heart and helps one to open to divine love. Zoisite helps to alleviate grief, anger, despair and defeat, and it is a powerful stone for deep healing by activating the body's defences and healing mechanisms.
Each piece comes with our lobster clasp, feminine, unique and elegant. Keeps wearing and taking off the trinket easy.

Kindly note that the photos may show a representation of the item that you will receive. Since each item is handcrafted, please expect some minor differences from the photos shown. Many thanks for accommodating and appreciating the unique handmade nature of wearable art.

Each piece of trinket is beautifully packaged and ready as gift.
Product Code is NLSB018.