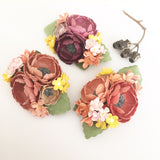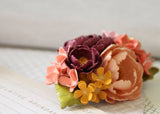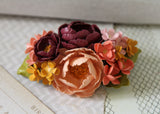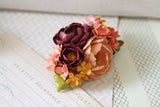 Floral Bouquet Paper Brooch
or make 4 interest-free payments of $17.50 AUD fortnightly with
More info
Sweet array of blooms make up this little garden that's the perfect accessory for a sweater or top. Soft, vintage pink, peach, melon, and butterscotch flowers all nestled together.

First, paper flowers are hand cut and shaped, then given several light coats of glaze to help them retain their gorgeous shape. Then, the centers of the little blooms are hand painted, and the roses are given little piles of hand cut, paper "glitter", giving them even more depth and texture!

Brooch is teardrop shaped and measures approx. 3 inches by 2 1/2 inches.

These are only lightly glaze to retain their shape, and are not water proof...
but unless you're a crazy mud puddle jumper (and you know who you are), well, you should be fine!