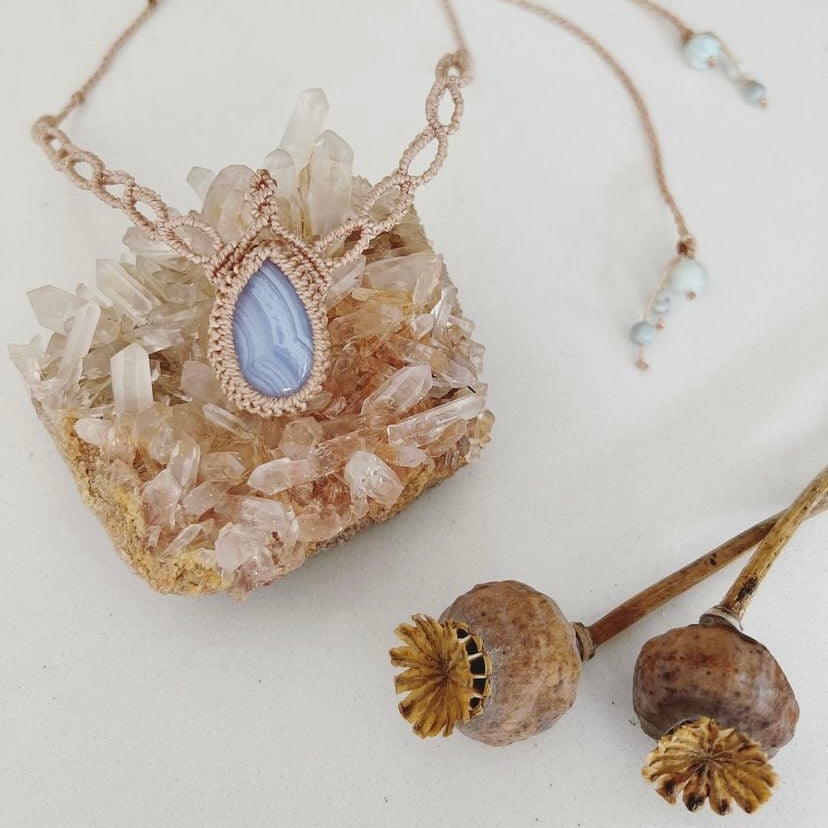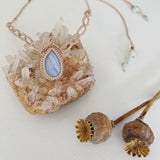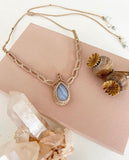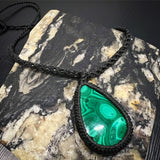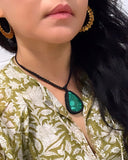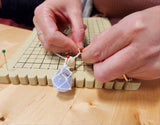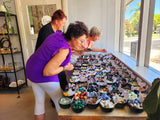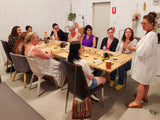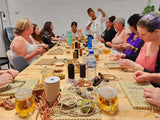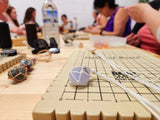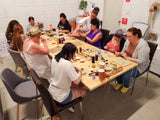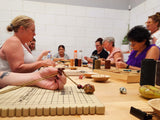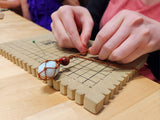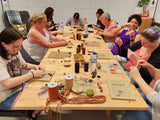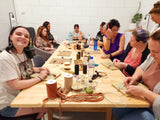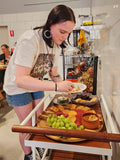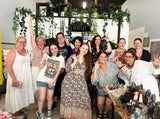 Jewellery Making Macrame Gemstone Necklace by Rochelle Taylor - 30 Jul 2023
or make 4 interest-free payments of $22.50 AUD fortnightly with
More info
Time: 1:00pm - 4:00pm (3 hours)
Description:
Soul Made invites you to a mini retreat where you can unleash your inner child through creating your very own macrame gemstone (Blue Lace Agate) necklace in our safe and calm space followed by light refreshments towards the end of your jewellery making journey.
Perfect bonding retreat for your inner circle of friends. Create a gift for your partner or bring along your teenage child for a meaningful parent-child bonding session.
In this three-hour class, which is perfect for beginners, your friendly and talented teacher Rochelle will take you through the basics of macrame and guide you through how to create a gemstone necklace.
It's time to allow your inner child out to play and have some fun. You will learn how to tie multiple knot types and a variety of different braid styles, incorporating some gemstone beads, to create an individual piece of jewellery to take away with you.
As the session goes for Approx. 2.5 - 3 hours, some light refreshments, tea and coffee will be provided. (Please advise prior with any dietary requirements.)
Once we have exhausted ourselves with our creativity, it's time to slow down and relax to the subtle sounds of Tibetan singing bowls and angelic vocal, together with some simple light refreshments, to take you on a journey within.
Requirements 
5 person per class minimum and 8 person per class maximum.

Minimum 17 years old
Knowledge required
No experience is necessary. Perfect for beginners.
What you'll get
Fully guided and instructed class.
Choice of the Blue Lace Agate cab you are drawn to.
Choice of crystal beads for further embellishment.
Choice of various colour cord.
Tea/coffee and light refreshments.
Knowledge to make macrame necklaces as uniques gifts for your dearest and closest.
Benefits of wearing gemstone jewellery
Wonders of Nature - Mother Earth gifted us with an incredible range of colours and geometry in crystals and minerals. Every one of them is unique and magical. It is a wonderful feeling to be able to wear something that Mother Nature created.
Connection - Gemstones can help you in increasing your concentration and connecting you with your inner conscious.

Healing - Some gemstones are believed to have healing powers within themselves. They can generate positive vibes in your body thus strengthening you from inside.

Soothing and Cleansing Effect - You can feel calmness and a soothing effect if you are wearing the right gemstone for you. Some gemstones can remove the negatives energies accumulated in your body or protect you from negativity.

Purpose - Gemstones are suggested for a purpose. Many face obstacles in achieving their goals in life and gemstones can prove to be the kick-start of good things hereafter.

Sustainable and Timeless - Gemstone jewellery is eternal and last for a lifetime. The divine beauty of gemstones adds sophistication to any basic look. It has that timeless elegance that never goes out of style and helps you effortlessly achieve a stylish look.
Healing properties
Blue Lace Agate speaks of lightheartedness, loyalty, and trustworthiness. Blue Lace Agate is also a wonderful communication stone, helping us find the right words to express ourselves. Equally important, it encourages us to truly listen and hear what others are telling us. It can also be used to examine our own inner dialogues, helping us to think more positively and become more mentally kind to ourselves. It teaches us that when we communicate accurately and lovingly, we are moving along a pathway which leads to peace of mind.  Blue Lace Agate helps us release mental stress and to neutralize feelings like anger or fear which can cloud the mind.  Blue Lace Agate helps us to clearly see what is true and what is false, and to respond accordingly.
Blue Lace Agate is known as a stone of creativity because having this stone within your personal auric field will help unleash the artistic side in you. Blue Lace Agate's meaning also points to inner peace, idealism, justice, travel, and prosperity. The mesmerizing patterns in this stone symbolize the circles of life and renewal.

About your teacher 
My name is Rochelle. I have lived in the Bunbury area majority of my life. I have enjoyed many travels overseas, one of my favourite things to do.

I
have recently retired from 28 years of teaching Japanese language to Primary School students. A career that I was passionate about.

I have been making jewellery for over 25 years and spend a lot of my free time in the creative arts areas. Most of my creations I have taught myself how to do.

When I am not creating, I love to spend time with my kids, hubby and beautiful pups.
Just your smile! 😊
Book now! Places are limited and will sell out quickly!